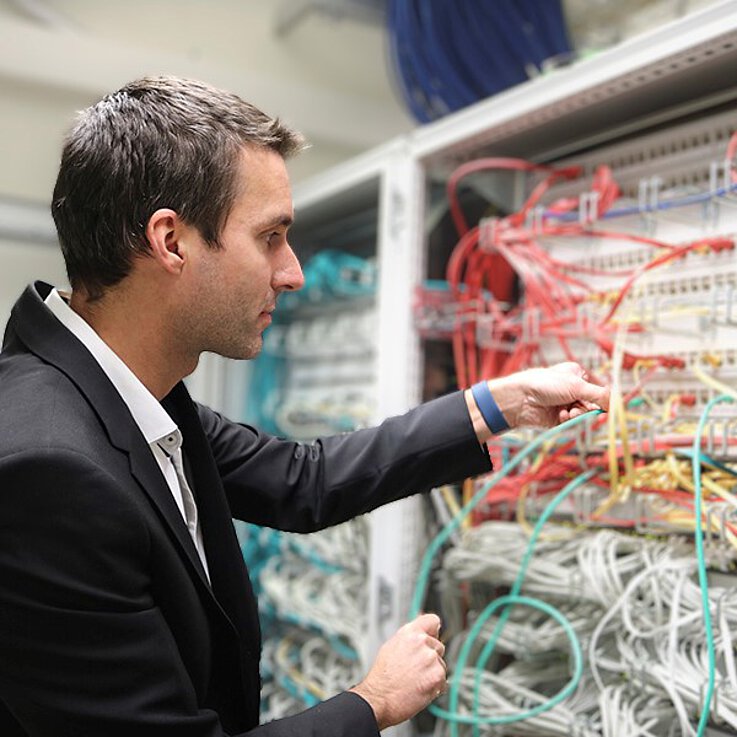 An increasing number of business processes depend on a perfectly functioning and secure IT infrastructure. Basic IT security tasks include:
GDPR compliant data back-ups
Protecting IT systems from unauthorized access and hackers
Filtering out spam and phishing mails
Controlling network traffic
Continuous monitoring of system health
Nowadays, the security and the future of every company depends directly on its IT security. As a result, continuous, holistic protection of data and IT systems is vital.
Cyber Security

Cyber Security has never been more difficult. With increasing digitalisation, the potential for a cyber attack from the internet is also rising. Companies are facing the major challenge of making themselves more resilient: against hackers, malware and security breaches during operation.

This increase in risk exposure can only be countered strategically. Our experts will ensure that your IT systems will become more resilient against cyber threats and will help you attain greater protection against a disruption to the computer-based systems in your company and better protect critical data.
Information security

Our expert team is happy to support you with the introduction or improvement of your professional information security management system (ISMS). We base our work on international standards, such as ISO/IEC 27001 and consider your compliance requirements and other internal frameworks. ISO 27001 certification brings you numerous advantages, including the edge when it comes to bidding against competitors, winning trust amongst customers and authorities or simply adding business value to your services.

It also demonstrates to the courts in a legally valid format that you have exercised due diligence. Constant optimization results in continuous system improvements. With numerous ISMS implementation projects and certifications behind us, we can stand at your side as either a consultant or auditor, allowing you to benefit from the wealth of our experience. With our good practice approach we offer efficient project implementation which results in greater acceptance and a result that stands the test of time.
Outsourcing / Virtual CISO

We are there when you need us: CONSULTATIO can take on the role of Chief Information Security Officer in your company and will support management in implementing the goals relating to information security. The tasks of a vCISO can extend, for example, to coordinating and monitoring information security processes and establishing security guidelines and policies.

By outsourcing this control function to an independent service provider, you obtain the greatest degree of independence and avoid any potential blind spots. In addition, you can meet your legal obligations in this field. Regular management reporting ensures rapid and reliable communication of all security-relevant incidents.
Information Security Consulting

Security policies are a useful tool when it comes to establishing and maintaining an adequate security level. In addition to security policies that apply to the whole organization, thought should also be given to guidelines for special topics such as server and client security, VPN access, business continuity policies, back-up concepts and secure coding.

Legal requirements, directives and standards must be complied with. We are happy to assist. Procedures that have proven their worth in practice result in bespoke solutions that are specifically tailored to your organization and your operating processes, solutions that work in daily business.
Peter Kopp
Managing Partner | Certified Public Accountant, Tax Advisor, CVA